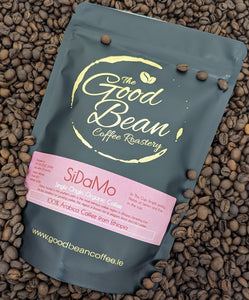 Sidamo
The Good Bean Coffee Roastery
Siadamo, located in the southern part, is the most famous coffee region in Ethiopia. benefiting from the best conditions for growing coffee, the region is known for its elegant, floral, and mild coffees. due to the number of cooperatives, washing stations, and different growing conditions in the same area, the cup profile can vary from one place to another. In general it is one of the most sought-after coffees worldwide. at a height of approx. 1500 m.a.s.l. the coffee grows under the shade of the mountain trees. Just like all Ethiopian coffees, the Sidamo coffee is a regional type and is trademarked by the country itself.
Cup Characteristics:
Bright acidity. Notes of lemon and Kiwi, in the cup.
| | |
| --- | --- |
| Origin | Ethiopia |
| Region | Sidamo |
| Farm | Various smallholder farmers |
| Variety | Heirloom |
| Altitude | 2100 masl |
| Proc. Method | Washed and Natural pulped process |